Are you looking for a wine cooler to hold your collection of wines? Read on to find out why the NutriChef Dual-Zone Wine Cooler (18 Bottle) is regarded as one of the best wine coolers in the market.
NutriChef was created on the principle that healthy home cooking should be attainable to all, regardless of skill level or economic status. People nowadays are so busy and are always rushing forward that it starts to compromise their health and personal lives. Nutrichef believes that there is value in simple pleasures. Now it offers more products to enjoy one of the great joys in life and that is to entertain and host family and friends.
The NutriChef Dual-Zone Wine Cooler was released in 2018. It is powered by thermoelectric technology and can hold up to 18 bottles. It is a simple plug-in wine refrigerator chiller equipped with a Standing Bottle Storage for open bottles, an LCD Digital Thermostat Display and Digital Touch Button Controls.
Features of NutriChef Dual-Zone Wine Cooler (18 Bottle)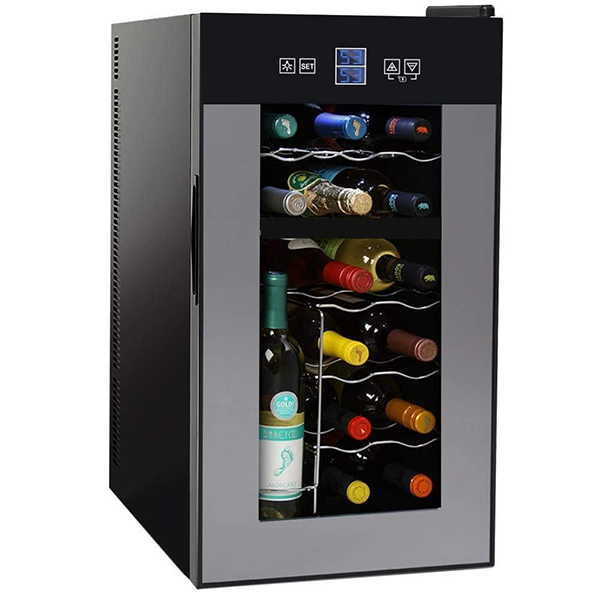 1. Modern Design
The NutriChef Dual-Zone Wine Cooler is designed to be freestanding. Standing at 20" x 13.6" x 25.4" and weighs at 33.1 lbs, it has a lightweight design. This allows for easy movement between rooms if required. It can be placed on the floor, under the counter or on the table.
Its all-metal design gives it the visual of a modern and sleek unit and makes it resistant to rough handling. It also has a reinforced glass door with airtight seal to keep the cold air safely inside and keep your wines preserved in their best state. The glass door is made with a smoked glass-dual pane tempered glass that helps keep your wines cool and safe from UV rays. The blue LED light also adds the extra visual appeal to the unit and creates a modern ambiance in any space.
2. Dual Zone Functionality
The dual zone functionality of the NutriChef wine cooler gives you the capacity to store wines at two different temperatures. You can store either sparkling wines and champagnes alongside red wines or both red and white wines together.
The lower zone temperature is between 54 – 64 degrees Fahrenheit which is ideal for red wines, while the top section temperature is between 46 – 64 degrees Fahrenheit which is ideal for white wines.
This system allows you to reach set temperatures in a short while due to its effective and precise cooling system. The selected temperature will then stay stable and consistent in each zone.
3. Thermoelectric Cooling
Thermoelectric cooling allows the unit to run in an efficient and quiet manner. It has a built-in circulation fan and a rear ventilation mechanism that ensures that the wines are equally cooled in any spot inside the main unit.
4. Shelving
This wine cooler has the capacity to hold 18 Bottles of your standard bottled wine collection and is designed to be able to hold both horizontal and vertical bottles. The cooler also has polished chrome racks that are removable.
The top section of the cooler can hold up to 6 bottles of wine horizontally while the lower section can hold up to 8 bottles horizontally and 4 bottles vertically. The lower section will allow you to store opened wine bottles without compromising its taste.
The removable chrome racks of this cooler give you the ability to store different sizes of wine bottles because of its flexible shelf configuration. This feature allows you to alter its appearance to your preference, however, keep in mind that configuring the arrangement of the removable shelves may reduce the capacity of the wine cooler.
5. Interior Lighting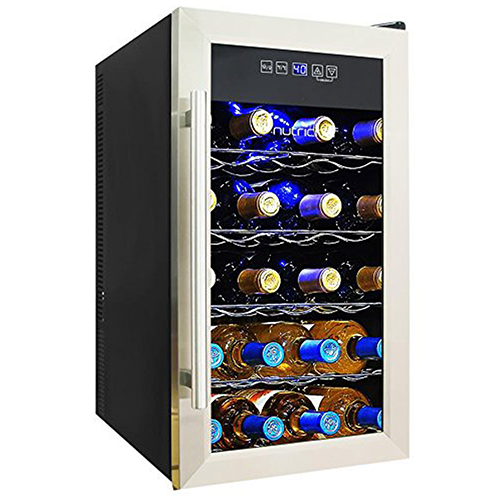 The coolers' interior lighting uses a blue LED bulb. The light illuminates the wine bottles so that it can be seen through the glass door without the need of opening it and disrupting the temperature inside. This also helps to avoid the heating action caused by incandescent bulbs.
6. Digital Touch Display
The NutriChef wine cooler has user friendly controls because of its digital touch display. Its digital display makes it easier for you to monitor the temperature in each section. There are separate temperature displays and control buttons to adjust the temperature in each zone. The panel also allows you to use either Fahrenheit or Celsius according to your preferred unit of measure. This feature allows you to control the temperature with just a touch and without having to open the door.
Possible Downsides
Some users of the NutriChef Dual-Zone Wine Cooler complain that the downsides to this unit is everything inside is a tight fit and the LED lights can sometimes be too bright. Also, because it is thermoelectric there may be struggles to keep the temperature consistent if the room temperature is too warm.
Why is it the best in the market?
The NutriChef Dual-Zone Wine Cooler is a reliable wine fridge and is affordable. Its Modern Design, Dual-Zone Functionality, Shelving, Interior Lighting, and Digital Touch Display makes it a great wine cooler for those who have a variety of wine collections. If you need a multi-functional wine cooler, its unique shelf system allows you to store your sealed and opened wine bottles while preserving its taste.
---