Wine coolers are needed to ensure the protection of the quality and taste of wines. This will help wines age consistently as well as store them in the right environment.
The Ivation 18 Bottle Single Zone Thermoelectric Wine Cooler preserves your wine's delicious flavor, color, and aroma. It is a freestanding wine cooler that can store up to 18 bottles and chill red and white wines. This cooler provides a stable environment that protects your wine from exterior lights and elements and is insulated to ensure an interior odor-free environment and blocks out the harmful UV rays. This cooler will not keep you awake at night because it is equipped with an energy-efficient thermoelectric cooling system that eliminates vibrations.
Why is the Ivation 18 Bottle Thermoelectric Wine Cooler titled as the best wine cooler in the market? Read on to find out more about its features.
Features of the Ivation 18 Bottle Single Zone Thermoelectric Wine Cooler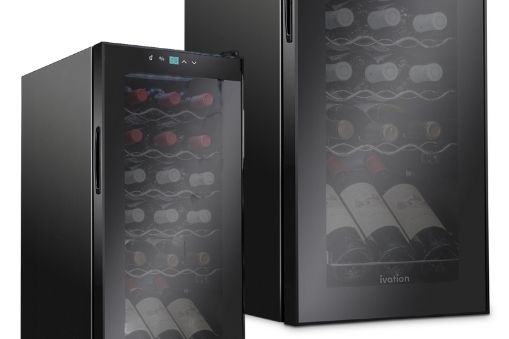 1. Well-built Design
The IV-FWCT181B is a freestanding wine cooler that weighs grossly around 16.4 kg (36 lbs.) and stands at 13" x 20" x 24" (34.5 x 50.8 x 64.5 cm). It has a sleek and stylish appearance that allows it to blend well with another décor and minimal and light to enable you to carry it from one location to another. It is still small enough to fit in a wet bar or kitchen.
It is regarded as one of the well-built wine coolers because of its capacity and shelving, tempered smoked glass door, and solid and CFC-free polyurethane foam insulation.
This cooler can hold up to 18 standard bottles of 750 ml wine. It has three (3) shelves that are removable, and there are six (6) slots available, each having space for three (3) bottles.
It is built with a tempered smoked glass door to stop UV rays from entering the cooler. It is important because the UV rays in the outside environment can destroy the wines' taste and flavor. The smoked glass design allows you to see the wine labels and identification easily and contributes to the sleek design that is easy to match with other décor. The door also has a tight seal to keep the temperature stable inside the cooler.
This wine cooler is fully insulated with solid, CFC-free polyurethane heavy foam that prevents humidity and odor from entering the chiller, which affects its taste and flavor. It ensures the cooler's climate and helps the cooler maintain a particular level of humidity to avoid drying out its cork.
2. Thermoelectric Cooling
The IV-FWCT181B runs quietly because of the absence of a compressor. Equipped with an energy-efficient thermoelectric cooling system, it runs quietly, with only a faintly audible hum if you are right next to it, and uses less energy. It is also built with anti-vibration components that help dampen the remaining vibrations, such as non-slip rubber feet, for the proper aging and settling of the wines inside the cooler. Its cooling system also provides the perfect temperature to store both red and white wines.
3. Digital Touch Control and LCD Display
The controls of the Ivation wine cooler are easy to use. Thanks to its digital touch control, you can easily set the temperature of your cooler. Click the unlock button until you hear two (2) beeps, then put your preferred temperature. This unit also has a bright blue LCD temperature display where you can see the current temperature inside your cooler and opt to set your temperature in either Celsius or Fahrenheit.
4. Temperature Control
The IV-FWCT181B's, a single-zone thermoelectric cooler, temperature range is 54º - 64º Fahrenheit (12º - 18º Celsius). This is the ideal temperature for aging, both red and white wines, for a long period. This wine cooler can keep a stable temperature to ensure that your wines stay delicious.
The cooler is also equipped with humidity control to ensure that your wine bottles' cork is kept moist enough to prevent too much air from going into your bottle. This control is a great help to keep the cork from drying out.
5. LED Lighting
Blue LED lighting is also provided by IV-FWCT181B. It gives it soft interior lighting that can be turned On/Off depending on your use. It is essential to have LED lighting because it does not emit heat that can affect your wine's aging. The interior lighting also provides the bottles' visibility without having to open the door of the wine cellar.
Downside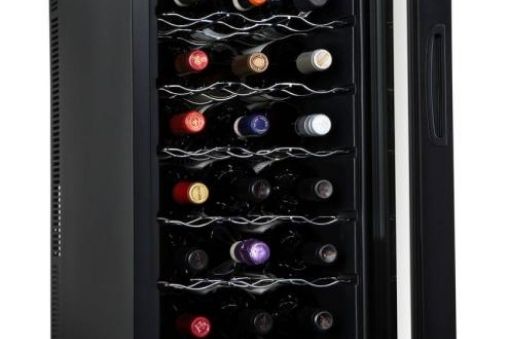 The Ivation 18 Bottle Wine Cooler also has its downsides even if it is regarded as the best in the market.
First, you must remove shelves to fit wine bottles that are not of the 750 ml standard size. Some bottles are difficult to fit, like a magnum bottle or other extra tall bottles.
Second, you have to purchase a lock separately because the unit has no built-in locking mechanism.
Last, keep in mind that this is a thermoelectric cooler, which means the temperature will depend on the ambient room temperature. It cannot be placed in a garage or warm places.
Price Range and Where it is Sold
The price range for IV-FWCT181B is around 150 USD to 200 USD.
As of this writing, below are where the Ivation 18 Bottle Thermoelectric Wine Cooler is listed; however, they are currently unavailable.
The Ivation 18 Bottle Thermoelectric Wine Cooler is efficient and easy to use with the given features. It has a well-built design, has thermoelectric cooling, has digital touch controls and LCD display, has easy temperature control, and has LED lighting. Additionally, even though it is a single zone cooler, it stores both red and white wines. It is easy to operate, compact for its capacity, and reviewed as the best wine cooler in the market.
---