The Magic Chef 6-Bottle Wine Cooler is rated as one of the best wine coolers you could ever have. What does it have compared to other wine coolers?
Read on to find out its features and existing downsides.
But first, let us look into the history of the makers of this wine cooler. The Magic Chef brand was first introduced in 1929, and it became a dominant name in the oven and stove industry. After being acquired by the Whirlpool Corporation in 2006, the MCA purchased the brand in 2010 because of the brand and emotional connection it had with consumers. Today, Magic Chef is built on the pillars of "easy everything", "everyday dependability", and "accessible customer service." In short, Magic Chef is committed to making products that are dependable and convenient.
The Magic Chef Single Zone Wine Cooler is equipped with Quiet Thermoelectric Cooling Technology, an Adjustable Thermostat Control for Red or White wines, a Soft Blue LED Stage Lighting with On/Off Switch, Two (2) Removable Sculpted Chrome Wine Bottle Racks, an Adjustable Leveling Legs for Uneven Surfaces, and a Black Cabinet and Door Trim with Recessed Handle. It is designed to be free standing and this model is considered as one of the best entry level compact coolers.
Features of the MCWC6B
1. Compact Design and Portability
The Magic Chef MCWC6B's size is 10.9 x 15 x 20.1" and weighs around 19.4lbs. Its compact design allows it to fit anywhere in the kitchen, dining room or any other room without taking up too much space. The size and weight will easily allow you to move the cooler to any place that it is needed. The design is simple yet modern that does not alter the overall design of the kitchen or dining room. It is able to blend well and the size is ideal to store a few of your favorite wines from your collection.
2. Thermoelectric Cooling
The thermoelectric cooling provides cooling efficiency and runs quietly and vibration free. Its adjustable temperature control can range between 46 o and 66o Fahrenheit to your specific storage requirement. It allows you to easily get your desired temperature. Additionally, because of this feature it consumes lesser energy to chill your wine.
3. Internal Lighting
Lighting is important when it comes to coolers with glass doors. It allows you to easily see what kind of wines are inside your cooler. The lack of external lighting will not deprive you of viewing or admiring your collection anytime. The lights of the cooler make the wine bottles visible regardless of its location. The internal lighting also adds to the ambiance of the cooler in the room.
4. Chrome Shelves
This wine cooler is equipped with removable chrome shelves. Its purpose is to organize your wine bottles so that they will not roll around. It also allows you to easily change the internal configuration to fit different sizes of bottles but keep in mind that doing so may reduce the bottle holding capacity of the cooler. The chrome shelves are also easy to remove and clean.
5. Adjustable legs
The cooler is also equipped with adjustable legs. This feature allows you to adjust the leveling of the cooler when the unit is placed on uneven surfaces. This takes away the worry of wobbling or sudden falls.
Possible Downsides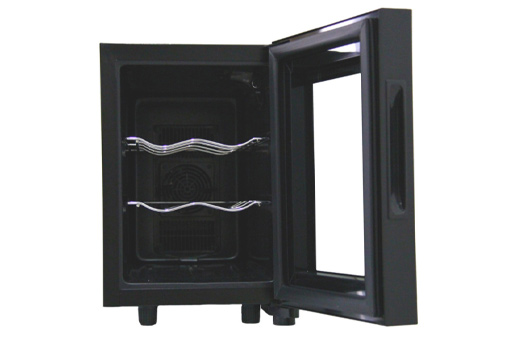 First, what is thermoelectric cooling? This type of cooling effect is a result of the current flowing between two different conductors or semiconductors. One side produces heat, and the other side produces a cooling effect that creates the temperature differential. However, this type of cooling is dependent on the ambient room temperature of where it is placed. For example, the unit cannot cool to less than 75o in a 100 o F room. This may make the cooling of wine inconsistent.
Second, some of the owners identified that there is no display of the actual temperature and the temperature control knob is small. There is a lack of inbuilt digital temperature display so it can be challenging to know if you have actually reached your preferred temperature.
Why is it one of the best wine coolers offered for sale?
The Magic Chef Model MCWC6B Wine Cooler is one of the best quality wine coolers because of its 6-bottle capacity and its overall design and features. The compact design and portability, the thermoelectric cooling, the internal lighting, the chrome shelves, and the adjustable legs are qualities that are necessary when looking for a wine cooler. This product is also made to be dependable and convenient for its users.
---